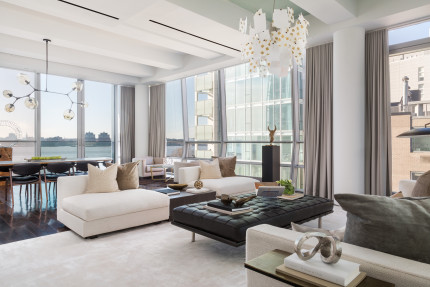 Are New York Quarterly reports delivering Artificial Intelligence? Yesterday's (April Fool's Day) First Quarter Manhattan real estate market reports touted radical home price escalations just as the entire real estate industry is adjusting to a 'new normal' comprised of slower absorption, adjusted asking prices and more negotiability. This further highlights just how severely quarterly reports can distort reality. When the median price and average price are about a million dollars apart, you can be certain something is amiss. 432 Park Avenue and Greenwich Lane closing prices cannot sustain exaggerated pricing averages forever.
Highly optimistic headlines are good for the markets as they fuel confidence, but with most of these reports quoting figures of transactions that went to contract up to 18 months ago (or more), they are not a reflection of current market conditions at all. Yes its true the market has recovered very nicely from the January/February lull that mirrored the DOW's volatile ride. The market below $5 million has remained strong and below $3 million it is even stronger. The 'new normal' is actually good as we enter the era of rational exuberance.
The danger of this recent round of reporting is that with delayed stats you run the risk that the next round of reports will show big declines. They will reflect the past 3 months activity which was mostly lackluster and this could trigger figures that show a large decline in pricing compared to this quarters reporting of older signed contracts….which again will deliver a distorted view of current market conditions. I pity consumers who must be painfully confused!
It is for this exact reason that we at COMPASS have COMPASS MARKETS, an APP that shows market conditions in real time as they are happening, specific to neighborhoods, property size and type…..in the palm of your hand. Obviously this has to be refined further and is largely dependent on the quality of data that is inputted by listing agents and developers (a whole other battle!). This serves the purpose of understanding market conditions specific to what you are looking at. It does not deliver sexy headlines. Personally, I believe the consumer deserves better than a sexy headline when it comes to such a massive investment.
The real estate industry's data reporting must catch up with the rest of the world if it is to be taken seriously. And if we truly care about the welfare of the consumer. And the economy as a whole.